Sorrento and Amalfi Coast Travel
On this page:
Sorrento and the Amalfi Coast
The Sorrento Peninsula and the Amalfi Coast are close but distinct areas of exceptional beauty, both located between the cities of Naples to the north and Salerno to the south, in the southern Italian region of Campania, of which the big city of Naples is the "capoluogo", regional capital.
Naples, Salerno and Sorrento are these two areas' main hubs for tourists and travellers. In fact Sorrento, with over 16,000 inhabitants, is larger than the towns and villages on the Amalfi Coast, which at most have one third of that population.
I recommend using Salerno as your starting point, for two reasons: it is the city closest to the Amalfi Coast (Naples is further), and it's big enough to have a nationwide rail connection to the rest of Italy (Sorrento doesn't have that). In a sense, it's the best of both worlds: closeness and transport efficiency. Some people even consider Salerno as part of the Amalfi Coast.
Choosing Salerno to begin your tour, you'll travel on the stunning Amalfi Drive, knwon in Italian as the "Strada statale 163 Amalfitana" (SS 163). As the name indicates, it is a state road that links the various places of the Amalfi Coast. Its construction started in 1832, before Italy as a country even existed (its unification occurred in 1861), and the work, entirely planned by engineers of the then Kingdom of Naples (more correctly termed Kingdom of the Two Sicilies), was completed in 1850.
Thirty miles long, it is without any doubt one of the most beautiful and famous roads the world over, christened "Nastro Azzurro" (Blue Ribbon).
From Salerno, coming from east, you'll take (by bus or, if you insist, by car) the state road SS 18 to Vietri sul Mare, about 5 miles away, the first town on the Amalfi Coast you'll encounter, which is a UNESCO World Heritage site and has the only railway station along the Amalfi Coast, by which it's also linked to Salerno; you'll then continue along the Amalfi Drive, and get to Cetara; then Maiori; Minori; Atrani; Amalfi; Ravello (you have to drive up a hill for that – or change your bus at Amalfi – but the view from the top is worth it);Conca dei Marini; the UNESCO World Heritage site Furore with its surprising and fascinating Mediterranean Fjord between high rocks and spanned by a superelevated bridge (incidentally, you'll find several UNESCO sites in this uniquely breathtaking part of the world); Praiano; and Positano, posssibly the most splendid and arresting place in an area full of wonders.
I'm not going to describe in detail the lovely small villages, gorgeous and sun-soaked beaches, grottos sunk below the sea with astonishing light effects and colours on the water, gorges, flowers, coves, green hills, pastel-coloured cottages, villas amidst the bougainvillea, terraces descending to the sea, gardens, spectacular hairpin road turns, aromas of herbs, cliffs above the crashing waves, not to mention the historic and art treasures of gems like Amalfi, one of Italy's four medieval maritime republics, the others being Venice, Pisa and Genoa (still in rivalry with each other).
You can drive on this road yourself, but then your absorption in the stunning views will be diminished by your necessary attention to the driving.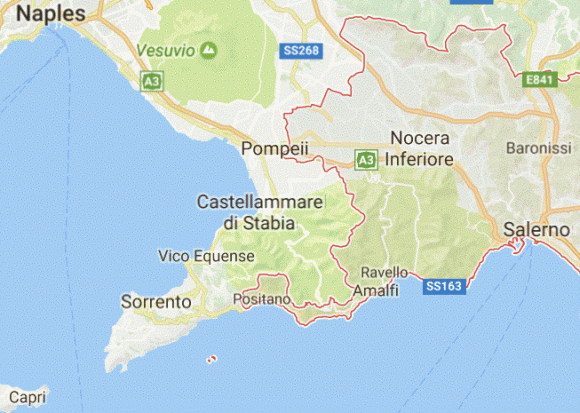 Salerno by Train
The various towns and villages on the Amalfi Coast are connected by an extensive and cheap public transport system, the most popular part of which includes buses of the Sita company, but also ferries and hydrofoils.
But first you have to get to the area.
Salerno, one of Campania's main cities, is a good starting point, being just east of the Amalfi Coast and well connected by rail to many Italian cities in few hours. It functions as both a national and regional important train hub.
The train is a good option, being low-cost, frequent, fast and obviously operating all year. The most direct and simple way to get to the Amalfi Coast is by taking the train to Salerno, and from there then travel through the Amalfi Coast to Sorrento and the Sorrentine Peninsula.
Salerno is the southern gateway to the Amalfi Coast, 34 miles southeast of Naples by road and 15 miles from Amalfi.
You can get trains to and from Salerno Station from and to all over Italy. Salerno Station is linked to the following cities:
north: Turin, Milan, Bologna, Florence, Rome, Naples
north-east: Venice, Padua
south: Potenza, Metaponto, Taranto
Intercity Night Trains north: Turin, Milan, Bologna, Florence, Rome, Naples
Intercity Night Trains south: Lamezia Terme, Reggio Calabria
The lines serving Salerno are: Italo, Trenitalia,Italia Domestic, European, Frecciarossa,Frecciargento, Frecciabianca, Intercity, Regional.
If you take a train from Rome Fiumicino (Leonardo da Vinci Airport), it will be a Leonardo Express.
Prices are reasonably low. A train ticket from Rome to Salerno for an adult (26 and over) starts from 10-20 euros. Prices tend to be higher during peak times, and lower if you travel early morning or late evening, on the eve of holidays, Friday and Sunday afternoon.
To save money, it's recommended to book your train tickets in advance, as cheaper seats sell more quickly so don't wait to the last minute. You can buy train tickets from 60 to 180 days in advance.
You can book your train from specialist websites for residents of different parts of the world.
If you live in the USA, Canada and Mexico, book your ticket from Rail Europe
.
If you live in the UK, book from UK Voyages .
If you live in Australia, New Zealand, Asia, Africa & South America, book from Rail Europe World
.
The time of a train journey from Rome to Salerno can be from 1 hour and 30 minutes to 2 hours and 30 minutes, depending on the train. From Naples to Salerno it's 30-40 minutes.
Of course you can get a rail pass, which is better and cheaper if you want the freedom to travel extensively by train, either only in Italy or in Italy and another country or countries. The above links will let you buy a rail pass as well. InterRail Pass,
Eurail Pass and other passes are available.
You'll find more information here: how to travel to and within Italy by train, .
From Salerno to Amalfi Coast
BY BUS
From Salerno Rail Station the Amalfi Coast with its many hamlets and towns is close, and it's very easy to get to that little piece of paradise by a Sita bus which stops in front of Salerno Station. Sit on the bus's left side for a better vision of the heavenly scenery which will soon be presented to your eyes.
From Salerno to Amalfi the bus takes 45 minuti, on a rather winding road.
SITA buses run very frequently (1 to 3 per hour) every day from Salerno to Amalfi. Salerno-Amalfi takes 75 minutes or less. The bus also stops in lovely places like Vietri sul Mare, Cetara, Maiori, Minori and Atrani. The last stop is Amalfi, from which you can take buses for Positano and Sorrento
There is no bus operating along the whole length of the Amalfi Coast. There are two main bus routes: Salerno to Amalfi, and Sorrento to Amalfi. Therefore, to go from Salerno, for example, to Positano, you'll have to change bus in Amalfi.
In Salerno the bus terminus is right in front of the Rail Station, while the one in Amalfi is in the centre of town by the sea.
BY FERRY
From Salerno you have several choices to get to the Amalfi Coast spots: not just by road (bus or car), but also by sea.
Travelmar operates 12 ferry services every day, including Sundays, from April to October, Salerno P.zza della Concordia – Amalfi and 12 services Amalfi – P.zza della Concordia Salerno, from about 8am to 7pm. Each journey takes 35 minutes and costs €8.
It operates 7 daily ferries to Positano and 7 back, each taking 70 minutes and costing €12.
More services from Travelmar take you from Salerno to other Amalfi Coast towns and back, including Cetara, Maiori, Minori, and between all these places. You can book online (link above). Remember to choose Salerno P.zza della Concordia and not salerno Manfredi.
Alicost is another company with ferry lines from Salerno to Minori, Amalfi, Positano, Sorrento and Capri.
Circumvesuviana
A local railway line serving the area surrounding Naples is the Ferrovia Circumvesuviana railway, opened in 1890, a 142- km-long, 6-lines train network running around Mount Vesuvius and linking 96 stations, connecting Naples with, among other places, Sorrento, Pompeii and Herculaneum. Extensive, efficient and very cheap. Doesn't run on the Italian national rail, fsitaliane, trenitalia or any other line.
During the journey the train stops frequently at many stations: that and the interior of the trains themselves make the Circumvesuviana more like a city metropolitan system, such as the London Underground (Tube) or New York City Subway, than a normal railway. As in a metro, you need a ticket in order to pass through the ticket barriers for the platform at each station. Trains are very crowded practically all the time, and it's highly likely that you'll have to stand during the journey, while probably your luggage will have to be left unattended in another part of the train.
From Naples' main station (Napoli Centrale) take a twice-hourly train of the regional commuter Circumvesuviana Railway to Sorrento Station (70 minutes), to find which follow the signs for "Circumvesuviana", which is underneath Napoli Centrale station; different lines use the same platform, so make sure the train is the one you want, to Sorrento; the ticket from Naples to Sorrento costs € 4.50, is bought from the desk in the station and should be stamped on the train. More details are on the Circumvesuviana site, which is in Italian.
Buses and Coaches
FROM NAPLES AIRPORT TO SORRENTO STATION
If you arrrive in Naples by plane, from Naples Capodichino (pronounced "capodikino") International Airport a Curreri bus a bus runs to Sorrento Rail Station, taking 75-90 minutes.
Curreri Viaggi is a local company that has been operating that route for many years. Vehicles are full-size coaches. There are no seat reservations and your luggage goes in the luggage hold under the passenger cabin.
You'll find the bus stop outside the airport's Terminal 1. The buses run 8 times each way every day of the year, except Christmas Day and New Year's Day. Bus services start at 9am and end at 7.30pm. the ticket costs 10 euros, to be paid to the bus driver.
The bus travels non-stop along the motorway to Pompeii, then follows the coast road until Sorrento, stopping in a few towns and villages on the way, including the pretty Vico Equense and Sant'Agnello. The end of the route is in the forecourt of Sorrento Railway Station. Hotel shuttle buses, on the other hand, may stop some distance from the train station. Taxis are good but obviously more expensive.
Alternatively, from Naples Capodichino Airport you can take an Alibus bus to Napoli Centrale Station (30-40 minutes) from outside the airport's Terminal 1; buses run at 20-to-30-minute frequencies from before 6am to around midnight; each Alibus ticket costs 4 euros, can be bought in authorised shops or on board, is stamped on the bus and is valid for 90 minutes from the first validation; then take a twice-hourly train of the regional commuter Circumvesuviana Railway to Sorrento Station (70 minutes), to find which follow the signs for "Circumvesuviana", which is underneath Napoli Centrale station; different lines use the same platform, so make sure the train is the one you want, to Sorrento; the ticket costs € 4.50, is bought in the station and should be stamped on the train.
As a third option, from Naples Capodichino take an Alibus to Napoli Stazione Centrale, as described above, then an Alibus to Napoli Porto – Beverello, running throughout the day, for which the same Alibus rules apply; then a hydrofoil to Sorrento Porto and thence a shuttle to Sorrento Train Station (if that's your destination), or just take a break and enjoy Sorrento.
Sita company website has details about buses from Naples to Amalfi, Positano, Salerno, Maiori as well, but it's not verly user-friendly.
FROM ROMA TIBURTINA TRAIN STATION BY BUS YOU CAN GET DIRECTLY TO:
Praiano & Conca dei Marini on the Amalfi Coast by Marozzi bus: travel duration is 5 hours. Check the time of the year, as it may run only in summer months. The bus leaves from the bus depot, a short walk from the Roma Tiburtina station. A ticket costs from €20.
FROM SORRENTO TO THE AMALFI COAST
As from Salerno, from Sorrento as well the cheapest, simplest and arguably the best way to savour the stunning drama of the Amalfi coastline, with its precipitous cliffs and the hamlets clinging onto them, is by the Sita bus service from Sorrento to Amalfi that follows the renowned Amalfi Drive coastal road and stops at Positano and other Amalfi Coast villages on the way. Amalfi and Positano are the two main towns of the Coast and have harbours with boat services.
It's a journey that you probably won't expect and you won't easily forget.
On this journey, unlike from Salerno, you want to sit on the right side of the bus for a better view.
Buses operate all year, unlike ferries which generally operate in the summer.
In Sorrento, the Sita (and other companies') bus station is in the forecourt of the Railway Station, in central Sorrento. If you take your bus from there, rather than at intermediate stops, you're more likely to find a seat, which is not always certain.
Sita buses are frequent: over 20 runs every day, from just after 6am to late evening. Sorrento-Positano takes about 40-50 minutes, and Sorrento-Amalfi 90-100 minutes.
The Sorrento bus makes several stops at the beautiful towns and villages of the Amalfi Coast, including Praiano. To get to another gem of the coast, Ravello, though, you need to take another very frequent bus from Amalfi, that in 25-30 minutes takes you to that village perched up on the hills and its spectacular view, often used in picture cards of the Amalfi Coast. You also have to change bus at Amalfi to go further east along the coast.
Single tickets are quite cheap, costing between €1 and €3 each.
Sita also has a special ticket, called "Costierasita", that for 8 euros lets you travel for 24 hours after the moment of its first validation, which mustl be on the first bus you take. It allows an unlimited number of trips on its transport in Agerola, Amalfi, Atrani, Cetara, Conca dei Marini, Furore, Maiori, Massa Lubrense, Meta di Sorrento, Minori, Positano, Piano di Sorrento, Praiano, Ravello, Salerno, Sant'Agnello, Scala, Sorrento, Tramonti, Vietri sul Mare.
Other tickets of the same kind are: 45 minutes validity costs 2.50 euros; 110 minutes 3.70 euros; 3 days 18 euros.
Tickets cannot be bought on board the bus. You can purchase them in the various coastal villages from tobacconists ("Tabaccheria"), bars, newsagents, kiosks, and from Salerno and Sorrento Rail Stations' ticket booths.
Buses tend to be crowded in the summer, although not so much from October to May. In high season, another choice are ferries.
Ferries
FROM NAPLES
This option is less crowded than the bus. The company NLG operates daily ferries from Naples Moro Beverello to Sorrento from 1 April to 31 December (price € 12.90, duration 35 minutes) and Capri from 24 May to 31 December (price € 20, duration 45 minutes).
FROM SORRENTO
Alicost operates ferries from Sorrento to Minori, Amalfi, Positano, Salerno and Capri.
By car to Sorrento
FROM THE NORTH
Take the A1 Milano-Napoli motorway (also known as Autostrada del Sole or Autosole), then follow the A3 Napoli-Salerno motorway, then take the exit Castellammare di Stabia, after which drive along the SS145 to Vico Equense, Meta, Piano di Sorrento, Sant'Agnello and Sorrento.
FROM THE EAST
Take the A16 Bari-Napoli motorway, then follow the A3 Napoli-Salerno motorway, then take the exit Castellammare di Stabia, after which drive along the SS145 to Vico Equense, Meta, Piano di Sorrento, Sant'Agnello and Sorrento.
FROM THE SOUTH
Take the A3 Salerno-Reggio Calabria motorway towards Napoli, then take the exit Castellammare di Stabia, after which drive along the SS145 to Vico Equense, Meta, Piano di Sorrento, Sant'Agnello and Sorrento.
Wherever you're coming from, once you've got to Castellammare di Stabia, take the SS145 panoramic road to Sorrento.