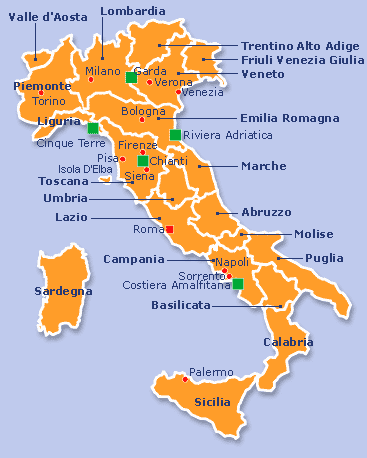 On this page go to:
Travelling to & in Italy by train
Travelling to and within Italy by train is an excellent method of transport. Train travel is a great way to enter Italy from within Europe.
The Italian railway system, run by Trenitalia, owned by Ferrovie dello Stato Italiane, in turn owned by the Italian Government, is good and rail tickets are cheap.
A convenient and cheaper way to travel to and in Italy and the rest of Europe is with an Interrail Pass.
Eurocity trains are international trains coming from countries neighbouring Italy like Switzerland, Austria, Germany, France and Belgium, and linking main cities across Europe. They provide short traveling times, very good comfort and quality services.
National trains offer fast connections between Italy's main cities with stylish, modern Premier Trains like Intercity, Espresso trains, and the Alta Velocità (AV) (High-Speed) trains.
The first high-speed train introduced in Italy was the Eurostar Italia, also called ES Italia.
The Eurostar is of course the high-speed train that travels in the Eurotunnel under the English Channel, connecting London with Paris, Brussels, Lille, Disneyland Resort Paris and further, and making a ferry voyage to cross what the French call "La Manche" (The Sleeve) unnecessary.
Eurostar Italia is not the same train. It used to be the fastest train in Italy, and its name is now often interchangeable with Eurostar Italia AV and with Frecciabianca AV. These trains are nearly always air-conditioned, with both first and second class cars, and these require reservations, like AV trains.
Regional and local trains are very numerous.
Night Trains operate both nationally and internationally.
Ferries connect the country with Greece, Turkey, Tunisia, Malta, Albania, Egypt and Spain.
In Italy nothing beats train travel. Although there are many and frequent coaches and bus lines, they are not as cheap and fast as the rail. A rail ticket over a long or short distance will normally be cheaper than a coach fare, and the journey will be quicker. And air travel within Italy is not inexpensive.
And, not least, travelling by rail gives you the possibilty to admire the beautifully landscaped countryside of areas like Chianti and the rest of Tuscany, or the dramatic sea scenery of the Amalfi Coast or the Cinque Terre, to name but a few well-known coastal regions.
In Italian cities, the main railway stations are located in the city center, but secondary stations can be in other areas. For instance, the main railway station in Rome, Termini, is very central, but Trastevere is on the other side of the river Tiber (beyond the Tiber, that's what "Trastevere" means), in a more working class but also more picturesque borough, with strong historical traditions.
Similarly, in Florence the main station of Santa Maria Novella is right in the city center, two minutes' walk from the Duomo and other artistic treasures. Campo di Marte, on the other hand, is not such an important station, and is on the opposite side of the river Arno (Oltrarno), not far from the football stadium.
Venice, as might be expected, is a special case. Venice Terminal railway station, Santa Lucia, is near Piazzale Roma, and links Venice to Mestre and the mainland. It's still fairly central, 10-15 minutes' walk from the main historical landmarks, sites and monuments but, due to the city's unique characteristics, it's not right in the middle of town, but at the edge of the historical center.
The 4-km-long Ponte della Libertà is the road and railway bridge that connects Venice historic centre with the mainland. It is the only access route for road traffic to Piazzale Roma and its large car parks, as well as for rail traffic to the Stazione di Venezia Santa Lucia, to give the station its full Italian name. Not only cars but also buses, tour coaches, trams, taxis, waterbuses ("vaporetti") and motorboats access Venice through Piazzale Roma. The curious thing about Venice is that, if you look at its broad map, aside from the islands, it looks like a fish. But I'm getting sidetracked.
Milan main rail station, Milano Centrale, is in Piazza Duca D'Aosta, near the famous Pirelli skyscraper. The station is at the end of a series of tree-lined avenues, fairly close to both the city center and its heart, Piazza del Duomo, and to the Fiera Campionaria, Milan Fair Exhibition Center. Milano Centrale is Italy's second station for size and traffic volume.
In towns, as opposed to big cities, the main railway station may be situated not exactly in the town center.
Milano Malpensa airport has a rail station in its Terminal 1, easily reached from central Milan by the Malpensa Express train from Cadorna, Milano Centrale and Milano Porta Garibaldi stations. To go from Terminal 1 to Terminal 2 and vice versa a free shuttle service operates 24 hours a day with a frequency of about 7 minutes during the daytime and about 30 minutes during the night (from 22.45 to 5.15).
Roma Fiumicino, also known as Aeroporto Internazionale Leonardo da Vinci, has a rail station too. Fiumicino Airport is Rome's main airport for international traffic and intercontinental scheduled and charter flights. The Leonardo Express train forms a direct railway connection between Roma Fiumicino and Roma Termini station and runs every 30 minutes .
Ciampino Airport, also serving Rome, is dedicated to low-cost airlines like Ryanair (which uses Fiumicino as well, on a smaller scale), EasyJet and (for Eastern Europe) Wizz Air. The nearest train station to the airport is that of the town of Ciampino, connected to the airport by Cotral/Schiaffini buses every 30 minutes. The journey takes about 5 minutes. The cost of the ticket, on sale both on board and at the station or airport, is 1.20 euros.
A light rail connecting the Ciampino train station with Termini station in Rome city takes around15 minutes.
There are two types of train tickets. First class seats often recline, there are fewer seats per car, and there is more space for luggage. On some Premier Trains, the price of a first class ticket includes a meal. Second class accommodations are less expensive, but not as spacious, as there are more seats per car. A ticket allows you to board the train, but does not guarantee you a seat. You must make a seat reservation to have a guaranteed seat on the train.
For certain trains, such as fast trains or Inter City, there's a supplement to be added to the ticket price.
In Italy, you have to purchase your train ticket before getting on the train. It's not acceptable to buy it on the train, and if you're found without ticket you'll be fined. There are often long queues at the ticket office of the railway stations. Ticket dispensing machines can luckily be found on the platforms of train departures sometimes, but not always.
For this reason it's more practical and often cheaper to buy train tickets or make your seat reservations before, so you can avoid fully booked trains. The simplest way to do so is online, through the Internet.
Italian phrases useful for finding and taking trains in Italy
Un biglietto di sola andata = a single ticket
Un biglietto di andata e ritorno = a return ticket
Prima classe = first class
Seconda classe = second class
Arrivi = arrivals
Partenze = departures
Da che binario parte il treno? = from which platform does the train leave?
Scusi, dov'è la stazione ferroviaria? = excuse me, where is the rail station?
Quando è il prossimo treno per Roma? = when is the next train for Rome?
Quanto costa un biglietto ferroviario? = How much is a train fare?