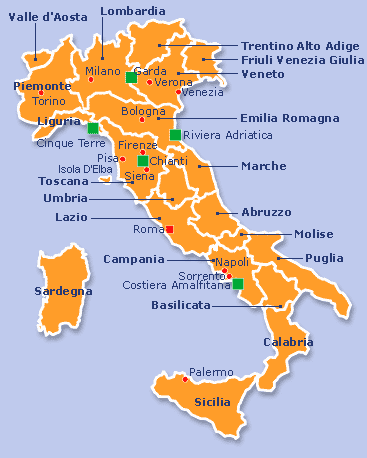 Map of Italy regions
Italy is divided into 20 regions, and each of them is in its turn subdivided into provinces.
You can see here a map of Italian regions. You can click on a point of the map
to find hotels in that area, city or town.
Every region has its main town and administrative centre (capoluogo di regione), and so has every province (capoluogo di provincia).
The country as a whole has a capital which is, of course, Rome.
A further division in Italian geography is into Italia del Nord (Northern Italy), Italia centrale and Italia del Sud (Southern Italy).
The majority of the Italian people live in the North.
These are the 20 Italian regions, from north to south and from west to east, with any English names in brackets.
Northern Italy regions
Valle d'Aosta/Vallée d'Aoste (bilingual region with Italian-speaking and French-speaking populations, main town is Aosta), Piemonte (Piedmont, main town Turin or Torino), Lombardia (Lombardy, main town Milan or Milano), Veneto (main town Venice or Venezia), Trentino-Alto Adige/Südtirol (bilingual region with Italian-speaking and German-speaking populations, main town Trento, or Trent), Friuli-Venezia Giulia (main town Trieste), Liguria (main town Genoa or Genova; this is the region of Portofino, Santa Margherita Ligure, Rapallo, Camogli, the Cinque Terre), Emilia-Romagna (main town Bologna).
All Northern Italian regions have a similar geography: the Alpi (Alps) in the North, with a range of hills called Pre-Alpi just South of them, followed further South by a flat area, the largest plain of Italy, Pianura Padana, the valley of Italy's longest river the Po, a vast expanse with high concentration of agricultural land.
The Italian lakes region, with Lake Garda, Maggiore, Como, lies entirely in the Northernmost part of the Alpine area, and is well connected to the main cities of the North such as Milan by fast motorways, like the Milano-Laghi.
Central Italy regions
Toscana (Tuscany, main town Florence, or Firenze; this is the region of Siena, San Gimignano, Chianti district, Pisa, Lucca), Umbria (main town Perugia), Lazio (Latium, the region of Rome or Roma), Marche (Marches, main town Ancona), Abruzzo (main town L'Aquila), Molise (main town Campobasso).
Southern Italy regions
Campania (main town Naples or Napoli; this is the region of Sorrento and Amalfi Coast, Pompeii, Mount Vesuvius, the islands of Ischia, Procida, and Capri), Puglie or Puglia (Apulia, main town Bari), Basilicata (also called "Lucania"; main town Potenza), Calabria (main town Reggio Calabria).
The two following regions, still part of Southern Italy, are islands: Sicily or Sicilia (main town Palermo), Sardinia or Sardegna (main town Cagliari).
Italians often refer to the whole central and Southern parts of Italy as "Italia peninsulare" (peninsular Italy), because it covers the long part of the country which is surrounded by the sea on three sides.